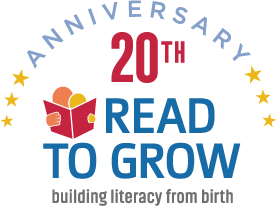 Celebrating Our
20th Year
We're proud, and we want to celebrate with you on October 3. We're having a special evening of cocktails, hors d'oeuvres and informal presentations on Thursday, October 3, from 5:30 p.m. to 8 p.m., at The New Haven Lawn Club.
As Read to Grow reaches its 20th year, we can't think of a better way to mark this milestone than by honoring our founder, Roxanne J. Coady.
Roxanne, Chair Emeritus of Read to Grow, started our nonprofit with a passionate, single-minded cause: to ensure there would be a book for every baby born in Connecticut. Today, Read to Grow has given more than 1.8 million books to children in the State of Connecticut. To better reach children with new and gently used books, we've formed 74 formal partnerships, from those with Connecticut Food Bank and The Diaper Bank to ones with hospitals, community health centers, and Save the Children.
Our mission has remained consistent. By giving books to children who need them — and who may never have had one of their own — we've promoted childhood literacy. By providing workshops to parents, health professionals and many others, we've supported those who care for Connecticut's babies and children so that they can be those children's first and most important teachers.
We look forward to honoring Roxanne for her vision and leadership with the announcement of the new Roxanne J. Coady Legacy Fund for Children's Literacy. All donations to the fund are fully tax-deductible.
We hope you'll come — with a reservation purchase or a sponsorship. A portion of each reservation purchase and each sponsorship is tax-deductible.
Reservations (each person @ $100) are needed:
Online:  Form immediately below for making reservations
By calling: 203.488.6800 (Ask for Robin Baker)
By emailing: events@readtogrow.org