Joy. Understanding. Knowledge. Opportunity.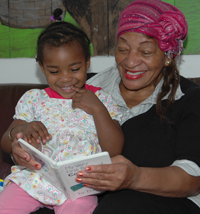 All these–and much more–are the gifts of reading and books. While their values are immeasurable, we know their power begins with language skills and literacy. A parent sharing a book with a child might seem such a baby step toward reading. It isn't. It makes a connection and a path to communication and comprehension. It leads to habits of sharing and learning and a way of life for a child and family that can truly shape a healthier community and society.
Small measures matter so much.
Today too many young children in families across Connecticut don't have the books they need. Their parents don't know the importance–and easy ways and heartfelt fun–of sharing books with their children from birth. Read to Grow strives to change that. We have:
given more than 1.6 million books;
reached more than 1 million children;
formed 46 formal partnerships with other nonprofits to reach and educate more at-risk families.
Please help us to make a greater difference.
Thank you. Best wishes for the holidays and the 2018 year.
To donate, click HERE.
Share