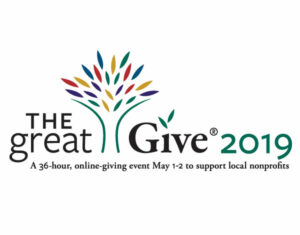 Want an easy way to make May matter?
On May 1st and May 2nd, Read to Grow is participating in the Great Give managed by the Community Foundation for Greater New Haven. Through a quick online donation, you can give important support that will help us to provide children's books, workshops and other literacy services to at-risk families.
Great Give is a 36-hour online-giving event to benefit non-profits in the New Haven area. It will run from 8 a.m. May 1st to 8 p.m. May 2nd.
Please choose Read to Grow and make an impact!
The Great Give 2019 is the 10th major community-wide giving event benefiting Greater New Haven's nonprofits that occurs over 36 hours. The purpose is to strengthen nonprofits by advancing knowledge about their work and increasing giving to their organizations. Nearly $8 million has been raised since The Great Give began.
Advance gifts can be made for The Great Give beginning April 19. Just click here. Of course, we welcome your donations through 8 p.m. May 2nd.
All gifts made during The Great Give 2019 are gifts to The Community Foundation for Greater New Haven that will be distributed to the organization you selected. Your credit card statement will reflect a gift to The Community Foundation.
Credit card transaction and third-party processing fees will be deducted from each donation as follows:
4.2% plus $.30 on gifts up to $1,000
2.2% plus $20.30 on gifts over $1,000
The Community Foundation does not receive any revenue from the transaction or processing fee and provides the online giving day platform and training to nonprofit organizations as a free service.
Thank you!