After more than 30 years of providing childcare, Geraldine Elliott finds her greatest reward and joy in a very ordinary moment.
It's the moment when a young child—nurtured on sharing books—expresses for the first time an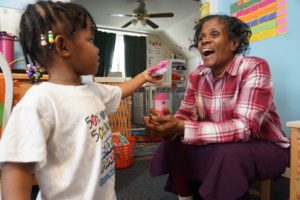 understanding of words, objects, colors, and numbers.
"Today when tiny, 2-year-old Ka'liya handed me those little plastic flowers she'd been playing with and said 'THREE PINK FLOWERS,' ...
Continue Reading
Share